Hard Act to Follow
Bob shrieked when he found his own name in the obituaries. With a last name like Smith, this wasn't really unusual... in fact, Bob had a collection of such clippings. What made today's significant was the cause of death: Squashed by Giant Crate of Cookies. "Wow," thought Bob," that one's gonna be tough to beat."

'"Quiet, you guys!" Stacey hissed, cupping the phone against her shoulder.'
- Herb Childress, Slumber Party

inveigh (in-vay') v. to protest vehemently; rail

Fearless
This Peter Weir film starring Jeff Bridges as an airplane crash survivor changed forever my own flying experiences. Now, whenever I fly, I find myself unable to get certain moments from this film out of my mind, particularly during landings. It kind of makes me wish I'd never seen this film. But only kinda.
Thursday

August 19, 1999
a webzine created by the Wunderland Toast Society
---
---

Travels to the Catskills, Kennywood, & New Xi City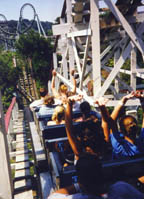 This week was one of travel. Although we're terrifically busy getting ready to publish Icehouse, we took some time out to relax and spent the weekend unwinding in the Catskill mountains. Then we went to Pittsburgh, to hobnob with some of the esoteric masters of the ancient Martian arts, and to ride roller coasters at Kennywood.
This was our first visit to Kennywood, and it's a really nice park. It's one of these long-established amusement parks that has classic woodies from the twenties as well as a couple of modern high g-force coasters, and it's right in the heart of town. Also, being built into a hillside, the coasters often make use of existing drops to gain or build momentum beyond that which is provided by the lift hills.
Our all around favorite of the coasters was the Thunderbolt, a very satisfying woodie (shown here). The Steel Phantom is a huge steel coaster with a killer start (two really great drops and a top speed of 80 mph); but it ends with some rather rough loops and it was a bummer for Kristin because her bandanna blew off somewhere along the way. We were really impressed by the new spinning car technology used in the enclosed state-of-the-art dark coaster called the Exterminator. And I really enjoyed plummeting straight down on the Pitt Fall, a brief thrill ride like the Tower of Doom at Six Flags America, only taller. I wear my watch on a chain around my neck, and as we fell straight down it would float in the air directly ahead of my chin. It was cool.
---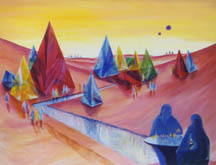 On the Icehouse front, we took delivery this week on the new version of the Xi City painting by Dawn. Years ago she painted a huge Martian landscape for Icehouse Games, inc. to use on an advertising postcard; the ad campaign never happened, but the painting has been hanging in our upstairs hallway ever since. After years of seeing it there, and as she's become better and better at what she does, Dawn has become increasingly dissatisfied with it and decided to do a new version even before we had announced our plans for a new edition of Icehouse. Now it's ready, and it'll be our cover art. Don't it look great?
Meanwhile, Zarf has designed a new Icehouse game, called Martian Go, and he's already making use of the new sizing pips on his diagrams. Check it out... it plays nice. We've also started playtesting a new game idea from Kory Heath, which is played with Icehouse pieces and 2 decks worth of Aquarius cards. It's called Pantopia and it looks quite promising. Kory gave us more to think about that we can really handle right now... in the same email, he told us he's been secretly working on Javaquarius (that's right, a Java version of Aquarius) for a long time now, and that it's nearly done. More on these stories later...

See you next Thursday...
---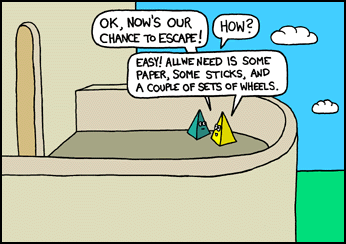 ---

The most difficult problem to solve is the one you don't know about.
"What did you do before you came to Alaska?" - the one question it's verboten to ask of people who live in Alaska
We finally invested in a digital camera!