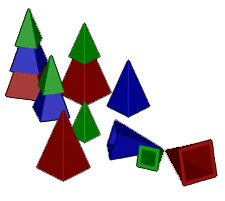 Last week I announced that we'd started the countdown towards factory-made plastic Icehouse pieces, and I posted our most up-to-date plans for how to package and market those pieces. Well, a lot has happened since then - this product is really starting to come together.
First and foremost, I've invented a new game! It's called IceTowers, and it's awesome.
Here's what happened. We got quite an outpouring of excitement after last week's announcement, and among the many comments and questions we received was the following: "Are there any plans to develop other real time games that are less complex that have a shorter learning curve? Icehouse is very interesting, however as noted only die hard gamers have the patience to learn it."
This got me to thinking. It is well known that we've been looking for a new game to be played with Icehouse pieces that would be easy to learn, incredibly fun, dependent upon the stacking feature of the new pieces, and requiring of no additional equipment. Our codename for this as-yet-undeveloped game has for years been "Glotz".
So, I was already pondering the possibilities for a new game. However, I wasn't even considering anything turnless... that's a design idea that I think we've all been kind of afraid to re-visit.
Nevertheless, as soon as I started thinking about it, I knew that Glotz had to be a real-time game... and not only that, I had some ideas for making it work! I stayed up all night, conducting thought experiments in my game design laboratory, and by morning's light, I had everything but mining figured out.
When Kristin woke up and read my notes, she made a set for playtesting, by cutting the bases off of a set of origami pieces. We'd been figuring we couldn't do any serious playtesting until we had pieces in hand, but actually, bottomless origami pieces work extremely well. (If you've got a set you've never assembled lying around, you can preview IceTowers... and actually, the pieces are much easier to assemble if you cut the bottom panels and flaps off first.)
IceTowers appears to have all the fun of Icehouse, and none of its flaws. It is played in real-time, without turns, but it doesn't suffer from the famous Icehouse stagnation problem. It's played on an open flat surface, yet crashes aren't an issue, and since it doesn't require stashpads, it is truly boardless. Most of all, it's easy to teach, quick to learn, and totally fun! Even the scoring system is simple compared to Icehouse. It's great! (Even if I do say so myself...)
We've been playing it fairly nonstop this week, but it does still need some playtesting and the rules may change slightly between now and publication. (The Infinite Loop problem could do with a better solution, for example.) But there's no question in our minds that this is the game we've been looking for. We're dropping the two version release schedule I described last week, and we've settled on which games we'll include in the package: IceTowers, IceTraders, Zarcana, and Martian Chess.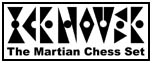 Another thing we've been struggling with this week is the name of the product. Having decided not to include the rules for Icehouse in with the product, it seems odd to call it Icehouse, yet with several strong games in the package, it's hard to call it anything else. For a few days we were thinking to name the product "Beyond Icehouse" (until some focus group testing at the local game store proved that this sounded negative to some people) and for a few minutes we thought about calling it "Martian Zarcana Towers", but finally we hit upon the idea of really embracing the whole Mars angle, and saying that "icehouse" is simply a Martian word that translates to "little pyramids", with the name of the product then being "Icehouse: The Martian Chess Set". Alison created a logo that reinforces this notion, by making Icehouse look like a word in an alien language, with the translation for the word appearing under it, in English.
As a result of all the product refinements we've made this week, I've massively re-worked the Under The Hood document to reflect our latest thinking... check it out if you're interested in the gory details.
Meanwhile, a factory in Baltimore is moving towards the creation of our mold. The company we're going with actually isn't the one I announced a few weeks ago we'd chosen... no sooner did I post that than we received another quote, this one from a place right nearby called KLON, who saw the Daily Record article and approached us for any plastic work we might be doing. And they had the best price, too! So they're the ones who got the job.
The picture above was sent to us yesterday by Duane, the mold designer working on our job. (Thanks Duane!) It's a computer-rendered image of the detailed 3-D model for our pieces, and it shows that they should interact properly, both for stacking and nesting. This means that the long awaited answer to the question, will the pieces be the same size, is YES! And contrary to the way they look in this image, the pieces will be translucent.
Anyway, things are looking good and the project is moving forward nicely. I hope you're getting excited about Icehouse... we sure are!